The leadership, the legacy and the learning that inspired us all
THE LEADERSHIP, THE LEGACY AND THE LEARNING THAT INSPIRED US ALL
Nā Helen Leahy
There is nothing quite as tranquil as the slice of the hoe as it folds through the water. It combines the gentle flow of the rippling sea with the strength of the drag pulling the waka forward.
This week we paid a visit to Nelson and Blenheim, as part of a series of workshops with the Rata Foundation on sustainability. One of the groups that presented was Waka Abel Tasman who have just released a promotional video. I hope you have a minute to relax and be transported into paradise: https://youtu.be/TpbFvn1dEa0 .
It was a real pleasure to meet up with some of our entities and initiatives : Ngāti Kuia; Te Hauora o Ngāti Rārua; Angel's Trio; Te Awhina Marae, Te Korowai Manaakitanga Trust. We – Haydon Richards (our Innovation Director) and the Rata Foundation presented views and tips around sustainability planning. And in return we heard some wonderful stories : the impact that acquiring a driver's licence can have creating new opportunities; how Mana Kaumatua had enabled one daughter to hear her mother's laughter – a sound she hadn't heard for some time; that in sharing a waka together people can forge bonds, work as one, and overcome anxieties and fears that hold us back.
Te Ora Nui
This week we had the opportunity to honour and acknowledge our Minister, Hon Te Ururoa Flavell, for the leadership, the legacy and the learning that he inspired in us all.
It was a wonderful night with tears and treasures, speeches and waiata from a wonderful line-up represented in the photographs below. A highlight of the evening was the presentation of a pounamu taonga.
The taonga, made from kawakawa pounamu in the shape of a wahaika, was named Te Ora Nui, literally meaning long life. It was named this to symbolise his contribution to all iwi of Te Waipounamu and Aotearoa, particularly through Whānau Ora, with benefits that will last a long time.
The ceremonial wahaika, carved by the people of Arahura and Ngāti Waewae, reflects the practice of giving such taonga to people held in very high regard by the people. The taonga, Te Ora Nui, was presented on behalf of Te Rūnanga o Ngāi Tahu; Ngāi Tahu the iwi and all iwi of Te Waipounamu.
There were many and beautiful tributes shared throughout the night including the presentation of a tapa cloth from Fuimaono Karl Puloto- Endemann and the following contribution read out on behalf of Omaka Marae in Blenheim.
"Being backed by yourself and Te Pūtahitanga means that our marae and whānau are on the pathway to transformation, whether that's the hot Aunties selling our Manaaki condiments, or one of our Pa Kids saying their pepeha confidently for the first time, our whānau sweating it out at Toa Fit or the establishment of our Te Pā Wānanga kura at the marae. You have played a role in all of that" .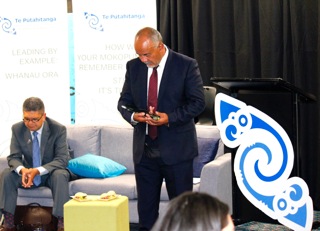 Community Law Canterbury Ngā Hau e Whā Legal Clinic:
Tuesday 10 and 24 October

Tuesday 7 and 21 November

Tuesday 5 and 19 December
Bookings: call (03) 366-6870 or admin@canlaw.org.nz
Reports Due by 10th October!
If you have not been sent a copy of your narrative template / CSV file and survey, please contact your contracts advisor urgently. We need to hear your story both in your narrative and in your data – and we want to help you to do that!

Key Stakeholders
NOUN
stakeholders (plural noun): a person with an interest or concern in something, especially a business. denoting a type of organization or system in which all the members or participants are seen as having an interest in its success:
We have had a busy week meeting with what might be described as 'stakeholders' including:
The Whānau Ora team from Te Puni Kokiri head office in Wellington;

The Senior Advisor Maori Responsiveness at Te Whaioranga PHARMAC

Presenting to Te Hononga : the strategic partnership between the Christchurch City Council (six councillors) and the six papatipu rūnanga of the greater Christchurch area,

Attending the Public Health Association conference : Valuing Connections, Connecting Values

Presenting to Te Tumu Whakarae : the National Reference Group of Māori Managers within DHBs
The kaupapa of Tumu Whakarae is to bring together the collective experience of members to further a shared goal that Mäori health gain stays on the national agenda and that as a national group they can provide some of the required leadership. Such relationships are really important to us – to help us look beyond what we do and consider ways of connecting.
A useful website link for you: http://www.healthinfo.org.nz/
Congratulations!
Well done to everyone across Te Waipounamu for getting your applications in for Wave Seven. Please find attached an infograph which reveals how many applications came in; the scope of funding sought; and where the applications come from.
Next step is that the Independent Assessment Panel meets on 16th and 17th October to go through each application and make their recommendations.