Winter is coming
It was uplifting this week to spend some time at Te Hapa o Niu Tireni on a beautiful Temuka day. The renovations are dazzling – a floor that literally shines, state-of-the art laundry and mattress room space, even rose petals in the wharepaku block!
But there is also a history that will never be forgotten that reflects the depth of the marae name: the unfulfilled promise of Aotearoa. The legacy of a time and space in Arowhenua where tupuna came to sign Te Tiriti o Waitangi that is passed down, generation to generation. Are we living up to the rights of citizenship; are tangata whenua realizing the potential not just of equality but more powerfully – equity?
The kōrero was fluid; the engagement dynamic as whānau came to Te Hapa o Niu Tireni to receive the framework and the Whānau Response Model as part of the Tū Pono: Te Mana Kaha o Te Whānau consultation process.
We heard the saddest of stories: one wahine who lived through 63 years of violence; another grandmother who reflected on the loss of her daughter, and the question she can never answer from her mokopuna – why didn't Mummy leave and take us with us?
But we heard also about Taua who rang the police the moment fights broke out: "I want everyone to know – this is not a house in which violence will occur". We heard about aunties who went and picked baby up and took them home: "If their parents can't care for them, we must".
I think one of the most moving elements was to see generations in dialogue with one another: preparing a pathway of hope for those yet to come.

Like the dazzling blue sky and the radiance of the foliage lifting upwards to the light, these 'follow-up' hui have been an important means of validating the whānau solutions as the source of hope for a future free of violence.
On Friday, we took the Tū Pono: Te Mana Kaha o te Whānau kaupapa back to Scenic Hotel in Dunedin, where representatives of whānau, Rape Crisis, Te Whare Pounamu, Jigsaw, A3 Kaitiaki, Te Rūnanga o Ōtākou, E Tū Whānau, Youth Wellness, Elder Abuse and Neglect (Aged Concern) Ārai Te Uru Whare Hauora, Kāi Tahu ki Otago and others came back to hear the kōrero and provide their feedback. If you want to receive a copy of the framework, please drop me a line on info@teputahitanga.org.
Rā Whānau ki a Te Roopu Tautoko ki te Tonga!
It was fabulous to be in Dunedin for the 20th anniversary of Te Roopu Tautoko ki te Tonga. I was proud to be able to speak of the legacy Te Roopu Tautoko ki te Tonga has crafted out over the last two decades and more. We were delighted by the ukulele entertainment of the kuia and kaumātua; and the thoughtful contributions by Jeanette Grace, Anaru Eketone and Chris Maxwell in tracing progress over the twenty years. And of course Esme's cake was a wonder to behold!
It was so lovely to see Christine Maxwell embraced in the love of her parents; and other whānau who have shared the experience over the journey of development, coming together to a 20th birthday party to reflect, remember and rejoice in reconnecting.
The 20th birthday celebration finished in remarkable fashion with a profoundly moving performance, Tether. The audience were literallly spellbound throughout the entire whakaari. Their words made you think about our actions and reactions; their music made you connect; their laughter and their relationship together prompted our own conversations about the way in which we solve the mystery of life's great challenges.
To finish off this week, I wanted to profile a couple of the magical people that give life to the concept of Whānau Ora Navigators.
In the South, Serena Lyders and Pari Hunt pulled together the southern team to start the discussion: what makes a good navigator? What do our whānau want, need, crave, desire? The coloured sticky notes represent some of the ideas that came flowing.
Sometimes we get feedback on our Navigators and their work, through email and social media. Te Ora Hou Otautahi have a Facebook page which is an up-to-the minute means of knowing whether they are doing what the whānau want to be done!
And up in Te Tau Ihu this week I thought I'd introduce you to three of our team.
Tēnā koutou e te whanau Ko Te Ramaroa tōku Maunga Ko Matawhaurua tōku Waka Ko Kupe tōku Tangata Ko Ngapuhi tōku Iwi Ko Te Hikitu tōku Hapu Ko Pa te Aroha raua ko Moria ōku Marae Ko Whirinaki tōku Kainga Tuturu Ko Atawhai tōku Kainga Noho Ko Nikau Adams tāku tamaiti Ko Juliana Tautari tāku Ingoa No reira, tēnā koutou, tēnā koutou, tēnā tātou katoa
I te taha ō taku whaea Ko Ngātokimatawhaorua te waka Ko Nukutawhiti te tangata Ko Hikurangi te maunga Ko Tawapuku te awa Ko Te Huruhi me Ururangi ngā Marae Ko Ngāti Mahia, Ngāi Tawake, Te Uri ō Hua, Te Orowai me Ngātihine ngā hapu Ko Ngāpuhi te Iwi I te taha ō taku matua Ko te Moana-nui-ākiwa te moana Ko Hamoa te motu Ko Vaea te Maunga Vaiisingoa te awa Ko Apia tawhito te kainga Ko Fa'auli te whanau Talofa lava

Over in Blenheim, meet Eileen….
Ko Tararua te Maunga
Ko Punahau te Waiora
Ko Muaupoko te Iwi
Ko Kurahaupo te Waka
Ko Kohuturoa te Marae
Ko Eileen Eriha tāku ingoa
"My first day on the Job, and myself and Te Ra headed out to the Awatere district to help the community box and distribute goods to all who have been affected by the November earthquakes. If was said that 30 pallets of Countdown goods came off a train in Kaikoura, which was stranded by the November Earthquakes. These goods were trucked up to Blenheim and stored at the property of Phyllis and Mark Herd in Seddon. Well over 200 boxes containing goods were ready for distributing to the community of the Awatere, Flaxbourne and Kekerengu areas.
It felt really good our presence being there helping the community and it was a good start for my role as the Resilience Whānau Ora Navigator"
Manawa Ora
Staying at the Top of the South, we are delighted that our Navigator Champion, Ariana Ngaruhe was able to attend the hākari and graduation of Manawa Ora at Whakatū Marae
Manawa has so many meanings to us.
It encapsulates the richness and the strength of the central vessel that keeps our heart pumping; te ihi, te wana, te wehi. It conveys a sense of aspiration; the breath of life, but also the force of potential we each possess.
What Manawa Ora is teaching us all, is encouraging healthy lifestyles through the world of Te Ao Maori: te reo based activities, mātauranga Māori education, tīnana discovery and recovery. And of course whanaungatanga permeates through all, like the blood flowing through the central arteries, to give us life, to keep us connected; to bring us together.
Te Putahitanga o Te Waipounamu is so proud of the difference that the whānau are making in Manawa Ora- drawing on all our taonga, all our natural assets, to bring out the best in whānau.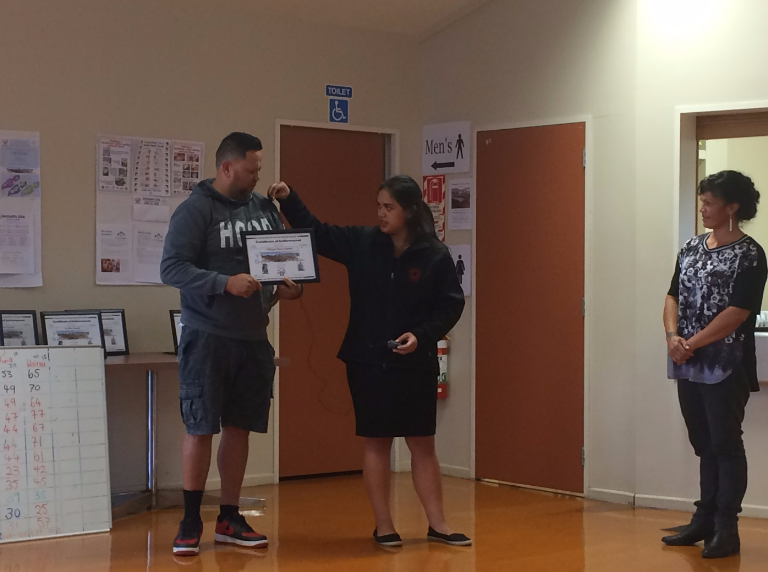 What's coming up
Get your pens and diaries out….
24 May : Submissions due for the Family and Whānau Violence Legislation Bill

6 June, Rehua Marae, Launch of Tū Pono framework by the Minister for Whānau Ora

22 and 23 June, Whānau Ora Symposium, Ngā Hau e Whā Marae, Christchurch
Kā pū te ruha; kā hao te rangatahi!
Your time is now. Be the Future. Lead the Future.
Wananga, networking, coaching and professional mentors.
Immerse yourself in four marae based wananga.
Applications open for those aged between 18 – 25 years.
Nominate yourself! A friend! A niece, nephew, cousin, mokopuna.
Wananga Tuatahi: 26-28 May 2017
For further information please go to: https://www.tkott.org.nz/