Hīkoi to Hauora: The journey to wellness
One of our team is skilled in the art of yoga. Alice Matheson loves the discipline and dedication yoga brings to her life: the chance to strengthen your muscles, increase your flexibility and centre your thoughts all at the same time.
The concept attracted me. I could visualize myself in a Zen like pose, relaxing into a state of peace and calm, body, mind and soul. The word yoga itself, comes from the Sanskrit word yuj, to join or unite. And so when we started talking about yoga in the hub – starting our day with a 7.30am session – I was one of the first to go for it.
Well, turns out that it's not as easy as it sounds.
Yes, Alice (and everyone else) look remarkably serene as they stretch to the state of kaivalya – ultimate freedom, or limber up in the classic 'downward facing dog'.
But not so much me. I've found muscles I never knew existed; my puku feels it most – not to mention my bruised ego as I realise that yoga and the art of aging take a bit more effort than simply turning up with my psychedelic pink mat under my arm.
I guess I'm a work in progress…..
Hīkoi to Hauora
Taking each step as it comes, is very much the theme of the Hīkoi te Hauora camp – moving to wellness.
The latest camp took place at Blackmount Valley, Te Koawa Tūroa o Takitimu.
The focus of Hīkoi to Hauora is recovery for whānau through hikoi
Ngā Kete Mātauranga Pounamu in Invercargill kept hearing the message from their whānau who engaged in their addiction service that they wanted a physical camp experience that would get their heads and hearts pumping, telling them they are alive for a reason and they can be the change they seek in the world.
Everyone who goes on the camps is given a health check and a passport to good health. They will be encouraged to walk up the Takitimu maunga while hearing stories of their tupuna. They will learn to work as a team and to take the waka out for a 5k and 10km hoe on Lake Manapouri. They will visit a restoration island in the Manapouri area, plant trees and check for feral activity. They will learn to work collectively and cook meals together.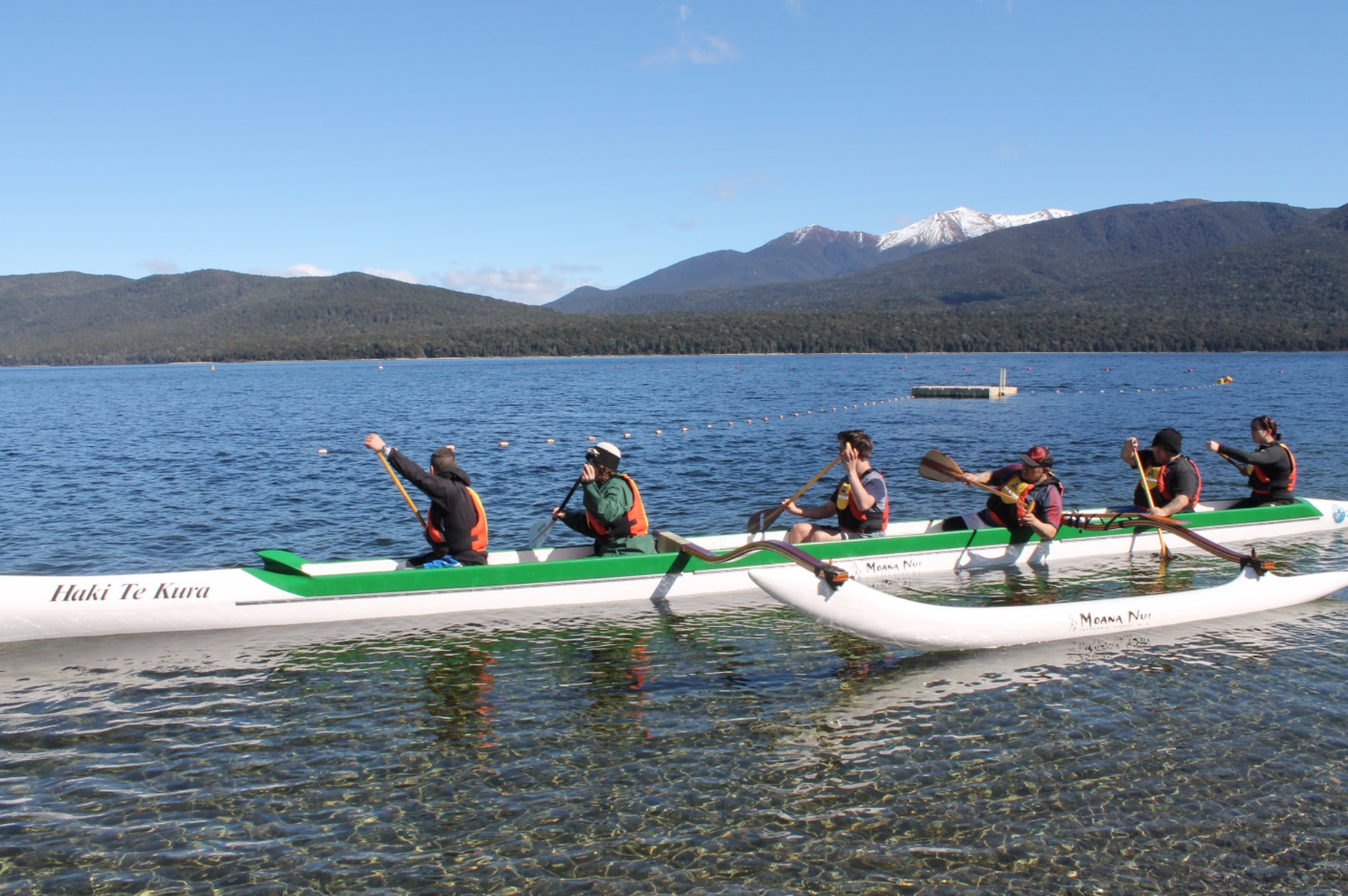 We all know that the focus on recovery from addiction is an extremely difficult challenge for anyone to take on. What's so exciting about Hīkoi te Hauora is to see that there is follow-up to the camps in recognition of the long-term journey in recovery

Ngā Kete Mātauranga is also looking to run one or two rangatahi focused recovery camps over the next twelve months.
The feedback is compelling. Some of the comments taken from the satisfaction surveys make that obvious!
What did you like about the camp?
Everything was awesome

Team work

Waka and the kai

It was chill

Whanau like- nature, building real friendships

The aroha, the whanau love,
Would you recommend the camp?
I'll be bragging alright!

Yes

Absolutely

Hell yeah

To everyone

For sure
The next camps planned are 8-12 May; 3-7 July and 4-8 September. Pikihuia – you're doing amazing mahi!
Work Brokers for Kaikōura
Last week we advertised an exciting new role - the He Toki Employment and Training Project Co-ordinator - Whānau Ora – based in Kaikōura. The Project Coordinator will work with individuals, communities, training organisations and employers to support employment and training outcomes for those impacted by the Kaikōura quakes and support Māori into civil construction and other work and training opportunities that have been generated as a result of the Kaikōura quakes. (Send your CV and a cover letter demonstrating your suitability for the position to Kym Hamilton Kym.Hamilton@tetapuae.co.nz Vacancy closes 5th February 2017).
Seems like it was such a good idea that the Ministry of Social Development is also recruiting for a similar role. MSD is looking for a fulltime Work Broker until 30 June 2017. "We are looking for a Kaikoura based high achiever who is solution focused, resilient and adaptable to play a part in Kaikoura's post-earthquake economic recovery". Contact Anna Johansen, Regional Emergency Recovery Manager on (03) 989 7000. But hurry….this one also closes in the next few days (6th February).
Open Day at Ōtākou
There was a definite buzz in the air in Dunedin this week when Trish Harrison-Hunt and I travelled to meet up with some of our Whānau Ora entities. The stage is being set for commemorations to honour Te Tiriti o Waitangi this weekend at Ōtākou Marae.
One of our Whānau Enterprise Coaches, Tracey Pōtiki, is the events coordinator for this year's ceremonies, and it's a big job! There could be 600 or so turning up – depending on the weather. The Minister for Whānau Ora, Te Ururoa Flavell plans to be there, as does esteemed kaumātua and tribal statesman, Sir Tipene O'Regan and the Minister for Treaty of Waitangi Negotiations, Hon Chris Finlayson. Dunedin Mayor Dave Cull will be speaking, waka specialist Hoturoa Kerr, archaeologist Dilys Johns, and of course whānau in their full splendour!
Kati Huirapa Runaka ki Puketeraki and Te Runanga o Moeraki will be there of course. It's going to be the place to be!
There's a lot on this weekend in Dunedin – Māori golf, a touch rugby tournament at Ārai Te Uru or you might want to head to Oamaru – specifically to Te Whare Koa Community marae. The hangi comes up at 1.30pm!
We had a really exhilarating evening at the Scenic Hotel catching up with the whānau initiatives like He Waka Kotuia; the Corstorphine Hub, initiatives with Ngāi Tahu Māori Law; Te Kura Kaupapa Māori o Ōtepoti, Ārai Te Uru Whare Hauora; Kāi Tahu ki Otago, Te Roopu Tautoko ki te Tonga, and the early years hub. It's a great thrill to learn about all of the different activities in motion: a big lift to the soul.
The Early Years Hub
While we were in Ōtepoti we paid a visit to the Early Years Hub. One of the new initiatives that we developed last year was through an arrangement with the Ministry of Social Development in which five of their contractual relationships with entities in Christchurch, Dunedin, Tuatapere, Lumsden and Otautau have come across to us, to consolidate a whānau-centred approach.
We call these MSD contracts – Whānau Tautoko. It's about finding the right supports to enable all of our families to be strong, healthy and thriving. That was certainly the picture we got at the hub in South Dunedin.
 
They seem to have everything! Meat Free Mondays; Mama and Pepe playgroup, toy exchange, a community garden, MEAL at the Hub (meet, eat and learn), a baby-wearing library – how to carry baby in a sling; a Dunedin Mums PND group (support group for mums run by mums(; and the 'breast room in the house' – the best place to get breast-feeding information. You can learn about conscious parenting (how to nurture ourselves and our families); music and movement, budget advice, homebirths, and their own facebook page: www.facebook/com/HubSouth.
Ihi Research
It was wonderful this week to welcome in the full contingent of Iwi Research and Development who are now basing themselves at our hub, Te Whenua Taurikura, at 10 Show Place.
We love the connection with Ihi Research and Evaluation. One of the pieces of work we have combined on is the recent evaluation of the Wave One Te Pūtahitanga o Te Waipounamu initiatives. Have a look at our Publications section on the website for more good news….
http://www.teputahitanga.org/publications/
Over the past year it is evident that significant capability has been built as a result of the initiatives. The commissioning approach appears to create the conditions for whānau to build capability, acquire new knowledge, access expertise and apply new skills to the work within their initiatives. Across the Wave One whānau enterprise initiatives it is apparent that the approach has created a shared understanding of Whānau Ora across Te Waipounamu, communicated a whānau potential model and created new knowledge in a very short time.
Haeata Opens its Doors
This morning at 9am, I attended the pōwhiri for the new community village of learning in Christchurch, Haeata Community Campus. It is certainly a school with a difference.
Haeata Community Campus was given as a name by Ngāi Tūāhuriri representative Lynne Te Aika meaning - New Dawn. In conjunction with Ngāi Tūāhuriri and the cultural narrative gifted to the schools in the eastside of Christchurch by Mahaanui Mātauraka the team worked alongside Mana Whenua Facilitator, Corban Te Aika to name particular buildings in the school.
Extensive research and wānanga took place to ensure that the mana of the Māori cultural history was upheld and in addition that the naming was aligned to the nature of the buildings, learning and philosophy. The naming of buildings and spaces followed the narrative of the local Māori history including the environment, tūpuna and species that traditionally lived in Aranui and its surroundings. I have to say it is a beautiful thing to walk around the different hapori : Kaunuku, Te Tai o Maahanui, Ihutai, Kōrero.
In each hub of learning – their hapori - will be smaller groups called Puna Ako where one teacher is responsible for the wellbeing and support of a small group of children. It's all about taking time to care, to let every learner know they matter.
The values of the school follow through on this unique dedication to really making Haeata come alive, to light a new dawn of learning for tamariki rangatahi in the East of Christchurch.
Alofa : Compassion, commitment and love ignite action
Manaakitanga: Every learner has a sense of belonging
Hanga Whare: Building the foundation for all learners to leave our school more curious than when they arrived
Service: All learners aware of their unique role in making a difference
Success: every learner crossing the stage with dignity, purpose and options
What's coming up?
9-12 March, Tahuri Whenua, Annual hui-a-rohe, Rehua Marae.
This hui will be based at Rehua Marae in Christchurch and is supported by a number of whanau and iwi groups in the region. The plan is to include a day visiting several places close to Christchurch on the Friday and then a visit to the Hokitika Wild Foods on Saturday 11 March. For more information www.tahuriwhenua.org.nz
Take care while driving over the long weekend – look after each other – and this Waitangi Day why not trying introducing a kōrero over the dinner – 'what does the signing of Te Tiriti mean to you?'